Other Therapies and Services at
Complete Care Health Ellenbrook
Kineseo Taping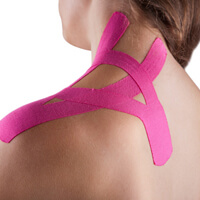 The Kinesio Taping method is applied over muscles to reduce pain and inflammation, relax overused or tired muscles and support muscles in movement for 24 hours a day. It is not a restrictive type of taping and allows for a full range of motion. In contrast, traditional sports taping is wrapped around a joint strictly for stabilisation and support during an athletic event.
Kinesio Tape is used to treat anything from headaches to foot problems and everything in between. Examples include rehabilitation from sports injuries, carpal tunnel syndrome, lower back strain/pain (subluxation, herniated disc), knee and shoulder conditions and many more.
Learn more about Kineseo Taping.


Dry Needling
In simple terms, dry needling is a Western way of applying traditional Chinese acupuncture to help with the treatment of musculoskeletal conditions such neck and back pain. It is a drug-free alternative to manage pain for some patients. We may offer this to you if your case warrants it.
Learn more about dry needling.


Therapeutic Ultrasound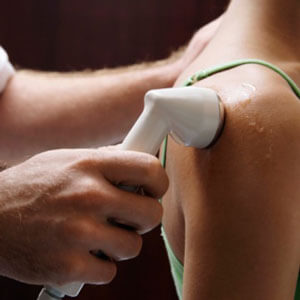 Therapeutic ultrasound is a treatment method that uses sound waves to treat pain, inflammation and muscle spasms by stimulating the body with high-frequency micro vibrations.
Used by doctors, chiropractors and physical therapists since the 1940s, it is a relatively low-intensity technique that uses high-frequency sound waves (ultrasound) to speed healing in injured joint or muscle tissue. The frequency used is typically 1 to 3 MHz.
At this frequency, the waves tend to travel through tissue with high water or low protein content and to bounce off cartilage and bone. They are absorbed primarily by connective tissue: ligaments, tendons and fascia. This physical stimulation enhances the cell-repair effects of the inflammatory response.


TENS
TENS stands for transcutaneous (through the skin) electrical nerve stimulation and is a treatment that uses low voltage electrical currents to relieve pain. The gentle electrical current is passed through electrodes which are taped to the skin near the site of the pain.
TENS is used to treat a variety of acute and chronic pain conditions including back pain, sciatica, osteoarthritis, rheumatoid arthritis, fibromyalgia, tennis elbow, neck pain, knee pain, neuropathic pain (pain from nerve or spinal cord damage) and cancer pain.


Orthotics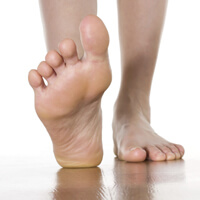 Your feet are the foundation for the rest of your body. If they don't get the necessary support, the result can be aches, pain and injury. Conditions such as shin splints, back pain and more can be due to feet that aren't getting the reinforcement they require from your footwear. At Complete Care Health Ellenbrook, we offer orthotics that can give your health a boost.
An orthotic is a small silicone insert that is placed into your footwear to restore your foot function. It keeps your feet held in a neutral position, allowing for your usual movement while your weight is dispersed evenly, and shock absorption is enhanced.
If you have a gait or postural imbalance, you may feel that your hips, knees and spine are affected, straining these areas and leading to worse problems as time goes on. If you're interested in orthotics, contact Complete Care Health Ellenbrook today to book a consultation with one of our team members. Together, you'll pinpoint your problem and find the best way to proceed in reaching your desired outcomes.

CUPPING
Cupping is one of the oldest forms of manual therapy and can be used as part of remedial massage treatment. It has long been used to alleviate tightness in muscles and the fascia and indicate areas of inflammation in the body. Using glass cups and heat to create the suction or plastic cups, the practitioner places the cups onto the treatment area and leaves them to lift the skin and muscle into the cup for up to 15 minutes. The suction encourages blood flow to the area that in turn helps flush out toxins and make knots in the muscle easier to treat. It can be used to treat pain in the neck, shoulder, trapezius and back.
N.B- THIS FORM OF CUPPING CAN LEAVE THE PATIENTS WITH BRUISING OR ROUND MARKINGS


Want to Learn More?
How can we help you or someone you know? Contact us today to make an appointment.
---
Complete Care Health Ellenbrook | 08 9297 4800