Leeloo Yang,
BSc (Physiotherapy)
Qualifications and experience: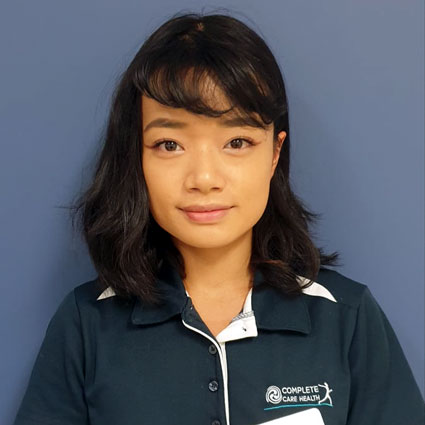 Leeloo graduated from Curtin University (Bentley, Western Australia), and has been a keen member of the Complete Care Health Ellenbrook team since 2019. She finds it rewarding to help patients get relief from their pain and help for their injuries.
During her undergraduate studies, Leeloo worked closely with remedial massage therapists from different cultural backgrounds, and evaluated and addressed musculoskeletal issues with a clinical approach.
Just like our other practitioners, Leeloo is confident in providing acute and ongoing care for patients with Chronic Disease Management, Motor Injury Insurance, Workers' Compensation, and National Disability Insurance Scheme (NDIS).
Leeloo is particularly interested in managing peripheral pathologies. These include tennis and golfer's elbow, subacromial bursitis, rotator cuff tendinopathy, gluteal tendinopathy, and patellofemoral pain syndrome. She can also address traumatic or overuse injuries to the hand and foot, and other sports or work-related injuries.
Additionally, Leeloo's interest in human pathophysiology extends into women's health issues, prenatal and postnatal care, and pelvic floor dysfunctions. She developed interest in these areas thanks to her time at Women's Health Clinics, Sir Charles Gairdner Hospital, as well as her training with the Australian Physiotherapy and Pilates Institute (APPI).
Leeloo has the following qualifications:
Bachelor of Science (Physiotherapy)
APPI Pilates Matwork Level 1-3
APPI Pilates Equipment Level 1-4
Acupuncture and Dry Needling
Mental Health First Aid (MHFA)
I've been in Perth since 2014 and feel lucky to be part of a supportive team in this lovely community. It's fulfilling to use my hands and brain every day, witness people getting better and better, and feel deeply appreciated as a person.
Outside the Office
Outside of work, Leeloo loves experimenting with paint brushes and food ingredients, as well as going out with friends, rock climbing and rollerblading. She is passionate about living an active lifestyle, pursuing personal growth and maintaining inner peace.
Discover how physiotherapy may help you recover from your injury. Contact us today to book an appointment with Leeloo!
CONTACT US
---
Complete Care Health Ellenbrook | 08 9297 4800