Zana Chen,
Remedial Massage Therapist
Qualifications and Experience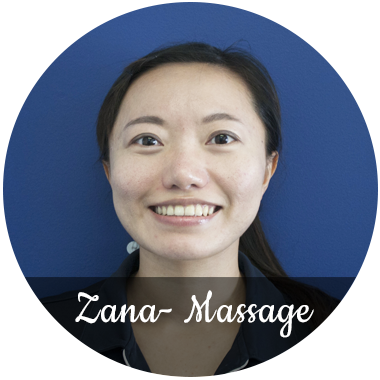 Zana began her advanced studies by achieving a Bachelor of Arts in Linguistics before turning her focus to a more hands-on Diploma of Remedial Massage Therapy. Her key focus is on the relief of tension, stress management and injury management through soft tissue work as well as myofascial release techniques that promote the body's ability to self-heal.
Her particular interest areas are:
Fibromyalgia
Muscle tension/strains
Plantar fasciitis
Shin splints
Tension headaches/migraines
TMJ syndrome
Expertise in Numerous Techniques
Through Zana's manual techniques, understanding of underlying causes and ability to treat symptoms holistically she is able to alleviate a variety of symptoms naturally and help her patients get back to optimum health.
Her techniques include:
Relaxation/Swedish massage
Deep tissue massage
Trigger point release
Myofascial release
Manual lymphatic drainage
Kinesiology taping (for posture correction and pain relief)
Fire/Vacuum Cupping
Dry Needling
Outside of Work
Outside of work, Zana enjoys cardio exercise as well as painting in watercolours to add some variety into the mix.
Contact Complete Care Health Ellenbrook today to book your first session! Saturday appointment times are available.
---
Complete Care Health Ellenbrook | 08 9297 4800