Dr. Winston Chung San
BSc (Chiro) and Bachelor of Clinical Chiropractic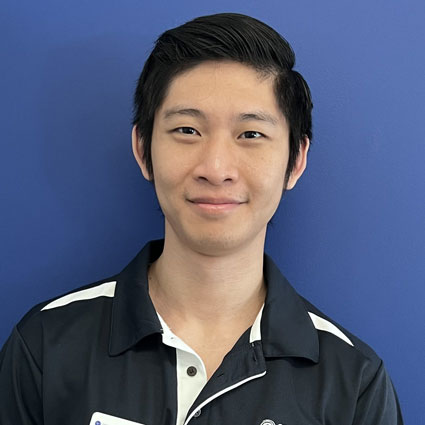 Since high school, Winston has enjoyed studying human biology and wanted to continue in a way that would help other people. "It was towards the end of my first degree that I just noticed the potential of chiropractic, and observed firsthand its effects on helping people."
After completing an undergraduate program in Biomedical Sciences with specialisation in Pathology at UWA , Winston earned a Bachelor of Science in Chiropractic and a Bachelor of Clinical Chiropractic from Murdoch University with Distinction cohort.
His extra qualifications include working as a Personal Trainer, placing emphasis on specific exercises and programs for rehabilitation, strengthening, bodybuilding, weight loss, and sport-specific goals.
A Passion for Helping People
For Winston, it's rewarding to assist patients in a natural and holistic manner. "I've always wanted to help people naturally by minimising the requirement of invasive or pharmaceutical options."
He also finds it fulfilling to work with patients. For him, socialising with patients is always enjoyable. "We get to learn about each other and enhance both personal and professional development." It's rewarding for Winston to see patients' symptoms relieved after his care, and watch their improvement with each subsequent session.
Taking a Patient-Centered Approach
Winston uses a holistic approach with history taking, physical assessments, and understanding the underlying source of patients' issues. His approach will always be specific to the goals of each individual. He also learns new techniques and courses to further improve and develop his skills.
Winston provides advice on rehabilitation exercises and healthy lifestyle changes to manage and prevent symptoms.
Outside of Work
When he's not caring for patients' spines, Winston loves swimming, karate, going to the gym (strength training and bodybuilding), rock climbing, and archery. He also enjoys piano, chess, cooking, gaming (computer and board games), and watching movies.
---
Complete Care Health Ellenbrook | 08 9297 4800