Foot and Ankle Pain
The health of your entire body rests on your feet. Each foot is an intricate, dynamic network of ligaments, tendons, bones and muscles. You may not realise how vital your feet are to the rest of your body until you begin to feel pain.
Absorbing Force to Your Body
The feet absorb shock and distribute force throughout the body as they strike the ground. If your feet are unable to do so, the pain will travel to other areas such as the back, hip and knee. It's vital to have balanced feet, and even slight issues with the mechanics of the feet can lead to problems elsewhere in the body.
Some of the common foot or ankle conditions seen at our practice include: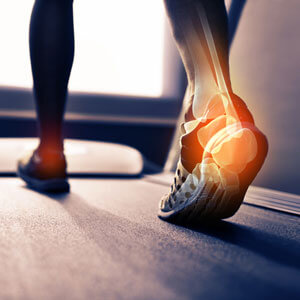 Alignment issues
Ankle sprains
Anterior compartment syndrome
Arthritis
Bunion or toe misalignment
Impingement
Peroneal tendonitis
Post-fracture
Do You Have a Foot-Related Problem?
If you have injured your foot or are in pain when your foot comes into contact with the ground, you may require treatment. Our team is trained to assess, diagnose and treat the cause of your discomfort. Meanwhile, to reduce your pain, any swelling or redness you may experience, apply ice to the area and stay off your feet as much as you can until your appointment time.
Contact us today to schedule your time! We're open late and have free parking on-site.
CONTACT US
---
Foot and Ankle Pain Ellenbrook, Swan Valley WA | 08 9297 4800